Helpful Info: Welcome to Carlson's
»
Return to What's Going on at Carlson's
Check-In can be a rush of information so we thought it would be helpful to give it in written form.
Breakfast in the morning is from 8am to 10am in the back of the lobby.  Breakfast includes cereal (frosted flakes and raisin bran), oatmeal, juice (OJ and apple), toast with peanut butter and jelly, mini muffins and doughnut holes (usually). Monroe's is a dinner south on route 3 one mile and has a full made to order breakfast.  Yaya's market and deli is north on route 3 and opens at 6:30 with breakfast sandwiches for those early risers. Don't forget there are coffee makers in the rooms for that early cup of coffee.
Menu's for restaurants for diner are by the piano.  Many we only have one copy of so we ask that guests view them in the lobby so they don't wander off for extended periods of time.
The game room is down stairs with pool, ping-pong and hand shuffle board. Please stop by the front desk to sign out the paddles or pool cues. There is also a fridge, freezer, and microwave for guest use. The game room is located under the stairs in the main lobby.
The front door gets locked at 11pm and is locked until 745AM.  The front door combination is on your receipt and it may be necessary to enter the side door at the walkway if the main entrance is fully locked up. PLEASE NOTE: the two sides of the building do not connect upstairs so if you are staying on the second floor in a 100's room you must come over and then up.  Please be courteous of other guests when in the halls at night and don't let doors slam.
If you need something and we are not at the front desk, please push the orange speakerphone button on the portable phone base that is at the front desk and dial 846-5477. These directions are on the yellow piece of paper under the plastic at the desk.
We have a cat named Allen who lives here all the time and a family dog named Marta who is often here.  Allen is a black cat and Marta is a labradoodle and both are very friendly. Neither animal is allowed in guest rooms. PLEASE NOTE: Allen has a heart condition (afib, heart murmur, and CHF) and he can not get excited. He is allowed outside under our supervision so if he sneaks out on you, please let us know right away.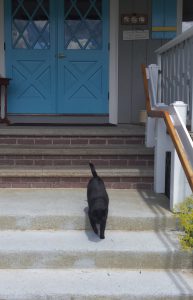 In the rooms: If there are 2 beds, the bed closest to the door has a firm mattress and the one closest to the window has a plush mattress. The bottle of the soap at the sink is hand soap.  The bottle in the shower is dial body and hairwash.  We fill the small bottles from large containers to reduce our plastic waste.
We are most active on Facebook and Instagram if you would like to stay in touch and see what is going on.
As a family business we depend on word of mouth and reviews from our guests.  If you have the opportunity to write a review or post pictures on either our Google listing or TripAdvisor, we greatly appreciate it.  Please let us know if there is anything we can do to help you enjoy your stay.
Carol and Will