Welcome to Carlson's Lodge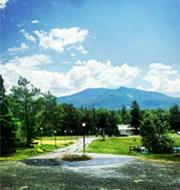 Looking for relaxing a getaway? Come stay with us at the Lodge and let the White Mountains in New Hampshire and surrounding beauty rejuvenate you.
Escape to a place where time slows and you can feel the history and elegance that only the White Mountains can hold. In a secluded off road setting of 50 wooded acres with a great view of the White Mountains in NH, Carlson's Lodge offers spacious comfortable hotel rooms each with Flat Screen TV's with HDMI cords to connect, air conditioning, ceiling fans, and full private bath. We have a large yet cozy living room lobby surrounded by an upstairs balcony, a game room with ping pong, bumper pool, and pool tables, and a fridge and microwave for guest use. We offer continental breakfast for all guests, and FREE wireless internet access. We also have an outdoor pool, child playground, and pond on the property.
Gateway to NH Grand
Crossroads of the White Mountains
Experience NH's Grand North from the soaring peak of Mt Washington to the flowing waters of our rivers. There's a grand adventure waiting for you.
Come find beauty at every turn.
Get back to nature. And listen to sounds of the birds breezes and rushing rivers…